Akosua Afriyie-Kumi: Fashion Designer
CURATOR KARINA EASTWAY | INTERVIEW WITH AKOSUA AFRIYIE-KUMI | PHOTOS AAKS | COUNTRY GHANA
London. New York. Paris. These locations are synonymous with fashion, but there's another emerging location all wild with fresh colour and style… hello Ghana!
Meet Akosua Afriyie-Kumi, the gorgeous designer behind fashion label AAKS. She's taking generations-old weaving tradition from her home country of Ghana to the fashion world in an explosion of colour, style and authenticity.
We spoke to her about her love of slowmade-by-hand fashion and Ghana … and how she's combined both loves to create an authentic and loveable brand that HOLDS HIGH in the modern retail world.
WHERE ARE YOU FROM ORIGINALLY AND WHERE ARE YOU BASED NOW?
I am from Ghana and based in Ghana currently.
WHAT INSPIRED YOU BECOME A DESIGNER AND IN PARTICULAR, YOUR CONNECTION TO THE TRADITIONAL CRAFT OF WEAVING IN GHANA?
I grew up around basket bags as a child in Ghana, I used to give them as gifts and also use them for storage. I remember having a lot of 'I wish it was more like this, I wish it was more like that' moments… I wanted it softer, almost foldable and also more colourful with blends of colours which were tasteful and modern with a beautiful finish and detail.
Building on this idea an I started researching into bag designs and fibres and found a lot of attractive benefits which were in line with my vision and ethos I had for my dream brand.
I established A A K S after seeing a gap in the market for beautifully handcrafted bags. I knew I wanted to go out on my own and pull together all my passion and talents to create something unique that would be fulfilling both personally and professionally so I embarked on my journey to Ghana to make this happen after my studies in the UK.
TELL US A LITTLE ABOUT THE PRODUCT AND VILLAGE WHERE THE BAGS ARE MADE?
The community that I work with to produce my AAKS bags uses a traditional weaving technique which has been passed down through generations in the Ghana's Northern Region to produce the main body of the bag. There are no machines used in the weaving process. Because the bags are handwoven by individuals, each bag retains an inherent uniqueness and this is what our handcraft entails.
The weaving process starts by twisting the raw raffia fibres by hand after they have been ecologically harvested. After twisting about 10,000 strands, we gather the raffia and prepare a dye bath. The dye bath consists of natural and a few chemical dyes mixed into boiling water, sometimes even natural tree bark is used in the bath to create good colour intensity. It takes approximately 10 - 30 minutes to dye each strand depending on the colour we want to achieve, the dyed raffia is dried in the direct sun. To create the base shape of each bag, weavers manoeuvre the strands between their fingertips, skilfully handling the raffia until the bags take shape.
The woven body is then transported back to my studio, a 12 hours drive away in Kumasi, Ghana for finishing. This is where the sewing of linings hand stitching of buckles and leather handles finalise the bag. After a final quality control, the bags are then ready for postage to stores such as Anthropologie and Urban Outfitters in the USA and clients worldwide.
HOW DO THE A A K S BAGS SUPPORT THE MAKERS?
Through my work in Ghana, we impact the community greatly by providing employment to the local weavers and ensuring the continuity of weaving as an art/technique that can be passed down to the younger generation. We also encourage weaving to be valued as a major income earner for many in the cooperative. I hope that our brand will go someway in contributing to the revival and sustenance of weaving as a thriving art.
CAN YOU TELL US A LITTLE ABOUT THE CULTURAL TRADITIONS IN GHANA AND WHAT ITEMS THE WEAVING TECHNIQUES WERE USED FOR ORIGINALLY?
The baskets originally were made as home décor, shopping baskets and storage baskets.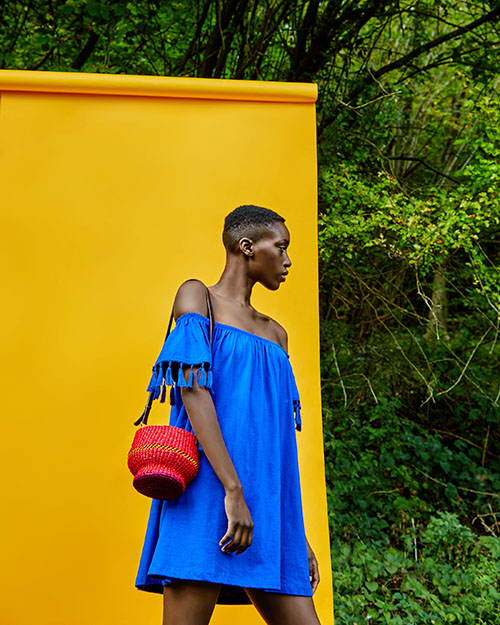 CAN YOU RECOMMEND SOMETHING A TRAVELLER TO GHANA SHOULD DO?
My must do in Ghana is visit Cape Coast coastal beaches and go on the adrenaline rush canopy walk through the Kakum Forest!
COULD WE GET A FINAL INSPIRATIONAL QUOTE FROM YOU?
She was born wild and curious. A cage is no place for someone like that. I play with the fire of my own truth. I'll burn for the things I love. (Mia Hollow)
SHIBUI PAPER PLANES no.12 | Published by SHIBUI & CO. ( First published in SHIBUI Issue 5, March 2018)