Andreas Söderlund: Woodworker
CURATOR KARINA EASTWAY | INTERVIEW WITH ANDREAS SÖDERLUND | PHOTOS © ANDREAS SÖDERLUND | COUNTRY NORWAY
AS DAYS AND NIGHTS GROW COOLER IN THE SOUTHERN HEMISPHERE, OUR NORTHERN CONTERPARTS AWAKE TO THE HOPE OF SPRING. FROM HIS ATTIC WINDOW IN NORWAY, ANDREAS SÖDERLUND WATCHES SNOW MELT INTO SUNSHINE, AND PIECES OF TIMBER TURN INTO INTRICATELY CARVED PIECES OF ART.
WHAT MATERIALS DO YOU CHOOSE TO WORK WITH AND WHAT ARE THEIR PARTICULAR CHARACTERISTICS?
I work exclusively with wood, dry wood more than green wood. Mostly birch, maple and walnut. Why I love working with wood is because it's a living thing and each piece of wood has its own unique patterns and colours. Even from the same tree you can find many different variations. So opening up a chunk of wood is quite exciting since you never know what you'll find inside. The wood itself can often be a good source of inspiration when deciding what to make.
I like working with birch and maple since they both have a very white and pale colour, a good contrast to the chocolate brown colour of walnut wood. So varying between those trees is a good mix I think.
WHAT SPARKED YOUR INTEREST IN WOODWORK?
Since I was a kid I have always been interested in creating things and working with my hands. My dad gave me my first knife when I was five years old, so that opened up the possibility to shape wood. Back then during my childhood years I always had a knife nearby, even in school. So whenever I got bored I found myself a stick and started making shavings. It was mostly that, making shavings, the fascination that the sharp edge could cut wood like it was butter. One day in fifth grade, my teacher saw what I had carved during a short break. It was a wooden knife I'd carved and he was thrilled that I was able to form something like that with just a knife in so short time. The piece ended up in an exhibition in school. Anyway, what I'm trying to say is that my interest in woodwork is something that has evolved during a long period of time. A few years ago I had a hard time, struggled with depression. One day I started carving on a spoon, and I found it to be so peaceful and therapeutic that I couldn't stop. So I continued and got well, and since then my interest for woodworking has grown even more.
CAN YOU TELL US A LITTLE ABOUT THE TRADITION OF WOODWORK WHERE YOU'RE FROM?
Where I'm from the woodworking tradition was wooden boats. Back in the days they made beautifully crafted boats from locally grown trees. Every village had at least one boat builder that had his own style. They still make boats in Ostrobothnia though, but not wooden boats anymore, unfortunately. But there's still a lot of fine woodworking with these fancy new boats, like Nautor Swan and Baltic Yachts, they all need beautifully crafted interiors. So the woodworking tradition lives on.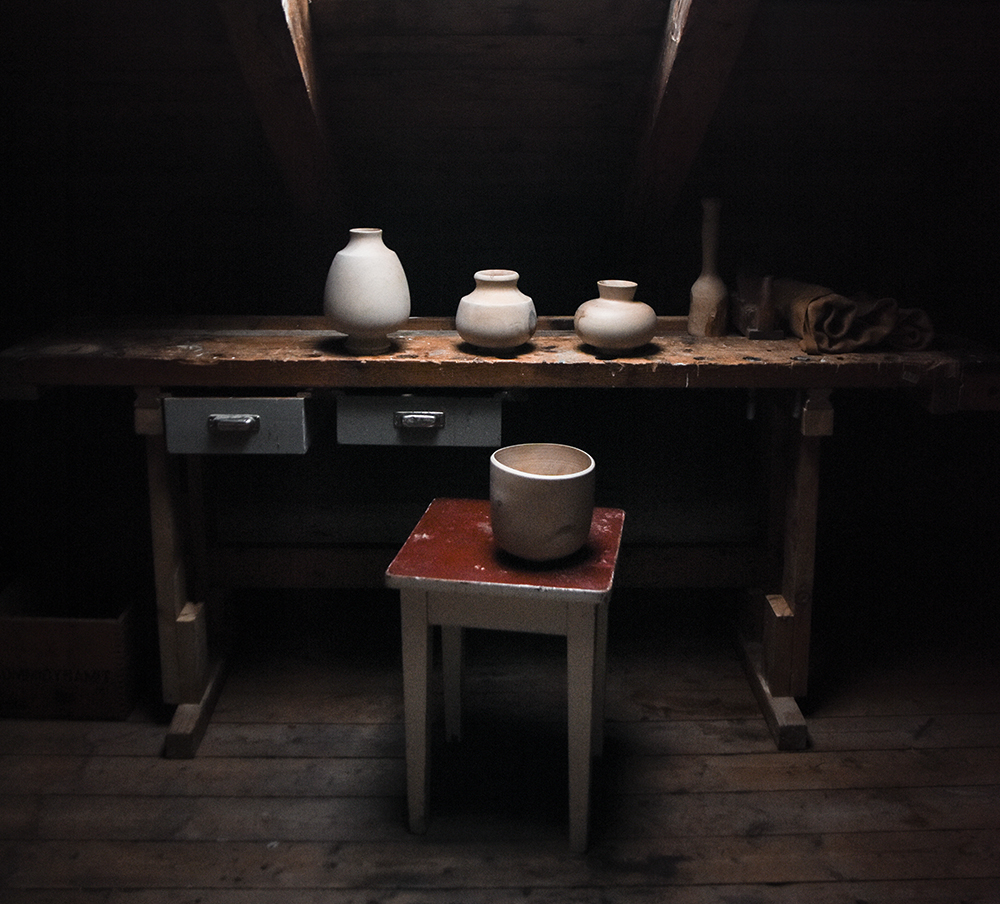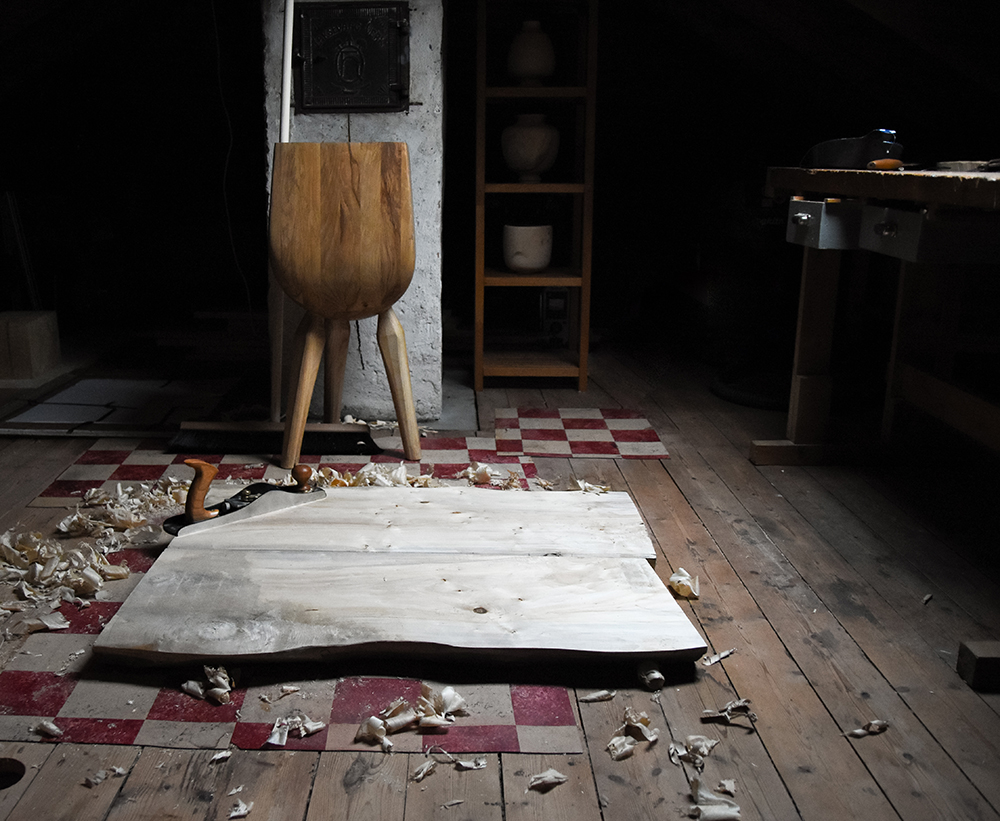 CAN YOU DESCRIBE YOUR STUDIO?
Right now my workshop is in the attic of the house we live in. It's a small space, but very cosy and filled with history. The room has only one small roof window, with a magnificent view over Bergen city. Since the room is so limited, I have no fancy machines, instead I keep myself busy working with traditional handtools. When you climb up the ladder to the attic it's like stepping into another world, long forgotten. There you can see an old workbench with a few handtools on it, lit up by the light from the window above. You can also see a three-legged chopping block with an axe stuck in its centre. In one corner there's a couch where I can sit and ponder over new ideas, or for my wife to sit and read a book while I'm working. Without big and loud machines, it is a very peaceful place where the mind can be free.
WHAT INSPIRES YOUR DESIGNS?
That is a question I always have a hard time finding a short and straight answer to. I often get ideas to new designs when I'm about to go to sleep, or when I sit on my couch in the attic pondering about life, or when I hold a strange piece of wood in my hand and a design kind of just pops out. I believe the inspiration to new designs comes from everything around us, everything you experience during a day, a week or more. I have found inspiration in the landscape around me, from a good book or a tragic movie. A conversation with a good friend over the phone can turn out into a great design from the doodles you've done while talking. To sum this up, I guess my head gives me ideas to new designs from a mix of everything, good or bad, that has happened around me.
WHAT HAS SURPRISED AND DELIGHTED YOU ABOUT YOUR NEW HOME, BERGEN?
The closeness to nature is partly why we moved here. There are seven mountains surrounding the city, so you can basically pick any direction and you'll end up on a mountain top with a stunning view. Our apartment is also placed on the hillside of a mountain, with a view over Bergen. So that was sure a delightful catch. We can probably live here for several years without running out of new things to explore.
WHAT'S YOUR TOP TRAVEL TIP?
Be spontaneous! Then you can find adventures in the most unexpected places. Keeping an open mind goes hand in hand with the spontaneity, you can never go wrong with that. And if you travel to Bergen, bring rain wear.
SHIBUI PAPER PLANES no.9 | Published by SHIBUI & CO. ( First published in SHIBUI Issue 3, December 2017)