Sky Carter: Textile Artist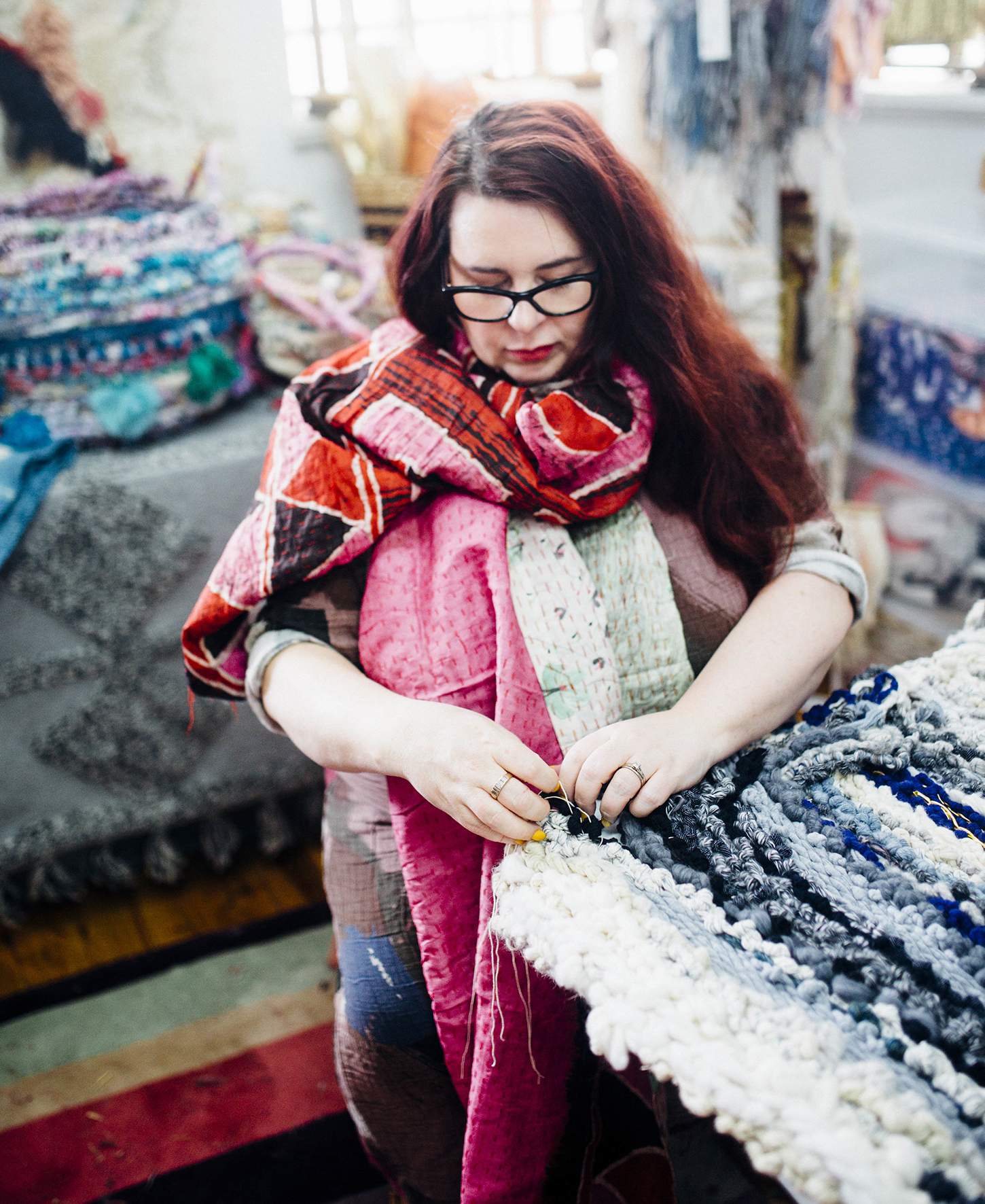 Australian textile artist SKY CARTER
unravels for us, her colourful love affair
with shagadellic textures, baby.
CURATOR BRISEIS ONFRAY | INTERVIEW WITH SKY CARTER
PHOTOS HANNAH MORGAN PHOTOGRAPHY | COUNTRY AUSTRALIA
Where there is skill there is a way and Sydney-based textile artist Sky Carter has woven that concept into her everyday life. It took only a second to leave a full-time job to create a lifetime of joy doing what she loves. Her gorgeous handy work is a colourful celebration of traditional craftsmanship and shagadellic fun.
IT'S A VERY TACTILE ART FORM. WHAT IS THIS BEST THING ABOUT HAND-MADE?
There is something about being physically connected to my work that brings me a deeper sense of satisfaction than, say painting did. Being able to hold something in your lap that is soft feels so good and the process of having my fingers entwined with yarn is hugely enjoyable. I am a bit of a texture freak so I love to emphasise that side of things too, making very shaggy works, often to the point where people want to plunge themselves in and can't keep their hands off.
WHAT INSPIRED YOUR FIRST PIECE?
I tell this little story in my weaving workshops about an epiphany I had one evening while watching a movie at home that had a wall hanging as part of its set design. When I saw it, something just clicked for me, I went into the kitchen, ripped up a cardboard box, did a quick bit of YouTubing, made a small cardboard loom and then wove my first ever wall hanging. I used some old fabric and yarn left over from a blanket I had crocheted. I loved it, it felt like I had made the cutest little thing. Before I knew it I had completely converted my studio into a fibre and textile art space and had given away my paints!
HOW DOES TRAVEL, ART AND CULTURE MAKE YOU FEEL?
Travel makes me feel privileged (so fortunate to be born in Australia) and globally minded with a broad perspective that allows me to feel empathy and truly appreciate what I have in life. Art and culture make me feel 'fed' and fulfilled, like there is a purpose to life.
DO YOU HAVE A FAVOURITE ARTISAN CULTURE OR TRADITION?
I really love the notion of the Japanese movement of Saori weaving which is about embracing mistakes and imperfection. I have to say this movement has only been around since the '70s but there are many much older cultures and practices that ensure there is a small mark that shows a product is handmade (Wabi-Sabi … look it up!). The Amish for example add a small mistake purposefully to their quilts, the notion being only God can be perfect. While this is not my motivation for the appreciation of imperfections, I love this story. I have previously worked on a collection that references striations which are considered geological faults, but ironically it is these faults that add beauty to a rock face or river pebble. A great metaphor for us as humans.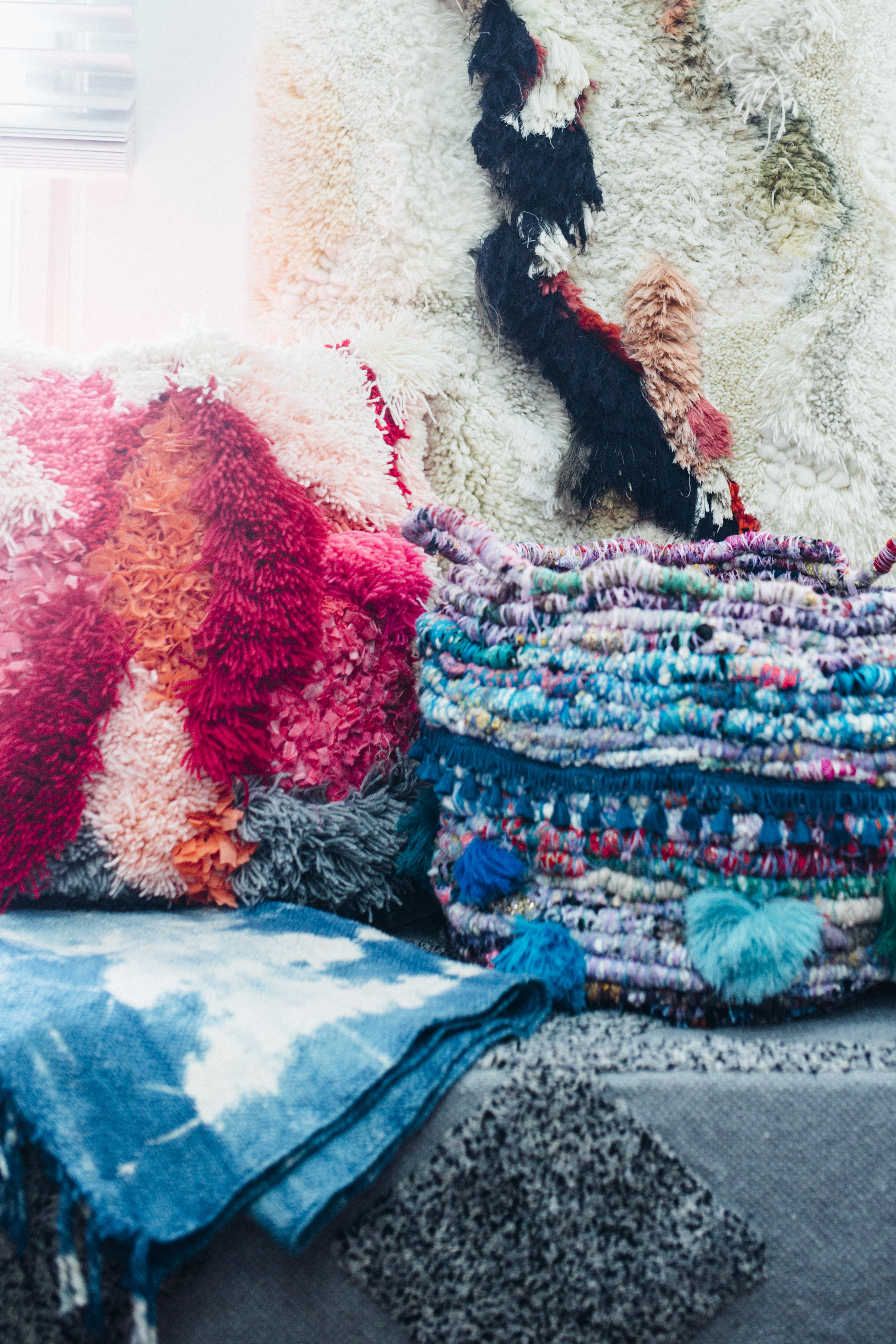 WHEN AND WHY DID YOU START WORKING IN TEXTILES?
I was floating along in life trying to be a proper adult but was not enjoying it very much. About seven years ago I made the very big and scary decision to leave full time work and follow my heart. I hired a studio space and began painting. Creative expression had always been an 'on the side' pursuit and I yearned to have a space that I could splash paint around in. It was a lot of fun and kind of like a self-taught crash-course in being a professional artist. I was fortunate enough to get commissions and sell my paintings so I could have stayed on that path if I hadn't suddenly discovered fibre art one day which, ultimately, transformed my art practice.
WHERE DO YOU DRAW YOUR INSPIRATION FROM?
Generally speaking inspiration comes from other creatives, studying, teaching my weaving workshops and being in new environments. Travelling and being out of the usual space is imperative to get my creative process flowing and recharged. It allows me to view the world with fresh eyes. I tend to notice and absorb more when travelling. However I don't need to get on a plane to get inspired. My husband and I often drive out to far away markets to rub shoulders with locals and find retro or vintage treasures. I am also a packaging fanatic and if I need a moment of fun I will pop into an Asian supermarket and buy something super cool and colourful. There can be weeks when I realise I have not really left my studio, so sometimes I need to remind myself to go roaming.
WHAT MATERIALS DO YOU WORK WITH?
Part of the joy of having a studio is having the space to collect and hoard. I have yarns, fabrics and other materials that I have come upon in my travels. Plus a lot of 'reference' items like ceramics and textiles collected on travels. I don't discriminate between synthetic and natural as I feel they both have merits and I particularly love rescuing preloved yarns from another era as you generally get colours that are no longer produced. Because my first wall hanging contained fabric this is a staple in my wall hangings and I still enjoy using fabric to add a chunky, raw and textural element to my work.
WHAT KIND OF CULTURAL FINDS OR WORKSHOPS HAVE YOU ENCOUNTERED THAT HAVE ENRICHED YOUR TRAVEL EXPERIENCE?
An artist residency in Antigua, Guatemala was fun and full of wonderful activities. I had the opportunity to spend time weaving with the indigenous Maya women and learnt how to use their traditional loom which is called a back strap loom. Personally I use several different types of looms in my practice and now I have another one I can add to the list! The intricate patterns and bright colours of the traditional weaving are so enticing and a small piece of cloth can take months for the women to complete, often with a baby strapped to their backs.
DO YOU HAVE A MEMORABLE, TRAVEL-BASED EXPERIENCE TO SHARE?
I had the opportunity to exhibit an installation piece in Chicago in 2016. I made the work here and flew it over, hopped on a plane myself to install it and got to hang out with a wonderful community of artists. I spent a total of six weeks there which was the first time I had the chance to totally immerse myself in one place. I love a bit of slow travel as it allows you to get to the nitty gritty of a city and find its heartbeat. I got to see so many different sides to Chicago, see how people live, know its smells and feel its sun. That was a special experience and I will always cherish it.
While I was there I also spent a few weeks at the Chicago Weaving School under the tuition of the very talented and knowledgeable Natalie Boyett who has created something special. I got to experiment with different techniques that have gone on to inform my practice in a hugely positive way. The school has over 80 floor looms (can you imagine) and it's full of a mixture of octogenarians and millennials keeping weaving traditions alive.
IF YOU COULD BE WORKING ANYWHERE IN THE WORLD, WHERE WOULD YOU CHOOSE?
I think the US is the place to be. Brooklyn is a special place, part gentrified and part real. A combination which means you can get a good coffee while still feeling grounded as a human being. In the US there is already an established community and understanding and acceptance of fibre and textile art as an art form, more so than in Australia, where I feel it is still considered fringe and niche amongst the general population. Also the huge population of the US means everyone has a 'tribe' they can find. Having said this I have tried to convince my husband to get a job in Tokyo. I would love to live there for a while.
WHERE ARE YOU BASED?
My studio, which hosts regular workshops is in the Inner West, Sydney. (An area in Australia that is notorious for a little grunge and a lot of artistic expression and talent.)
Subscribe to sky on YouTube
SHIBUI PAPER PLANES no.13 | Published by SHIBUI & CO. ( First published in SHIBUI Issue 1, August 2017)